Customer Success Use Case
University of Maryland, Baltimore County
Parent Access to Student Portal with Social Logins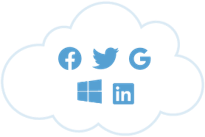 Social Logins
Description Goes Here
Summary
The University of Maryland, Baltimore County enabled students to invite parents to see information in their student portal using social logins.


Business Challenge
At the University of Maryland, Baltimore County (UMBC), new students and their parents attend summer orientations to learn all about the campus. Parents always ask, "how can I access information about my child's course schedule, tuition charges and their grades"? For years, the answer was, "talk to your kid!", which helps, but becomes more difficult once kids become engrossed in their college lives. Parents and other guests, once approved for access, need an easy way to check in on class schedules, pay tuition and see other information granted by the student.

Access to student data requires both FERPA security and convenience. Parents and guests don't want to have to create an account at the university and remember yet another username and password for access to the myUMBC portal.
The myUMBC portal is custom developed solution that is integrated with PeopleSoft Campus Solutions.
Project Goals

Allow authorized parents and guests intuitive access to the myUMBC portal with social logins.

Reduce development, maintenance and support costs for parent/guest accounts and allow UMBC staff to focus on other priorities.
How Cirrus Helped
Vice Provost for Enrollment Management at UMBC asked campus IT leadership to explore solutions that would allow parents easy access to student information and still guarantee students the ability to grant and revoke access as they choose.

In 2014, UMBC put in place parent access with Cirrus Identity's Gateway Service. Students can log into the campus portal, submit an email address for the person they'd like to invite, and choose the information they would like to share. Students still have control over their information.

When parents receive the invitation email, they get to choose a social identity provider (UMBC elected to integrate with Google or Facebook) to use as a profile account. The Cirrus Gateway eliminates the need for parents to create another profile. For all future access, parents don't have to remember a specific 'username' and 'password'. This gets parents access quickly and with no hassle, and eliminates the ongoing operating expense of managing a guest account service.
To invite parents/guests to view student information, students begin by logging in to the myUMBC portal, entering the email address of the person they'd like to share information with, and selecting the specific information they want to share. The myUMBC portal is integrated with PeopleSoft Campus Solutions.
UMBC has a homegrown email-based invitation that is initiated to register the social account the parent wishes to use for future access. When the parent/guardian later visits the myUMBC portal, they will see Google and Facebook as login options.
They choose the one they registered, and the login itself is handled via the Cirrus Identity Gateway Service. Cirrus Identity translates the authentication protocol into SAML, and maps the attributes from the social providers into standard eduPerson schema.
myUMBC Login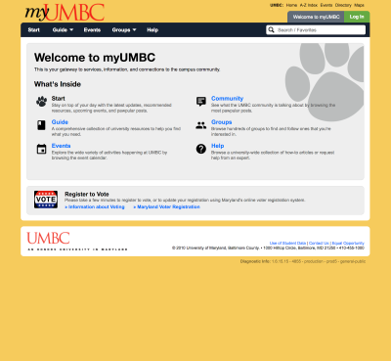 myUMBC Portal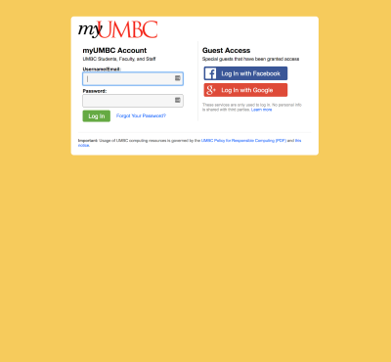 myUMBC Portal Login with Social Options for Parents & Guests
Impacts
"We don't have to worry about the issues around account creation and forgotten passwords."

Intuitive User Experience - Parents and guests can use accounts and passwords they already have an know! No more forgotten passwords to support!

Development Support - UMBC didn't spend time developing a guest solution and can focus on other priorities.
"Their Social-to-SAML gateway affords us the ability to focus onquality content rather than protocol differences between identity providers."
Cirrus Products Used Gateway
Easy integration of social login to your enterprise web SSO environment.
University of Maryland, Baltimore County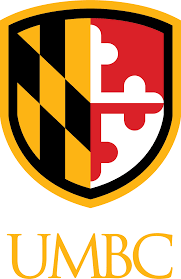 At UMBC, we are connected by a shared sense of mission and vision. We combine grit and supportive community to reach excellence across the board — in the classroom, the lab, and the concert hall; on stage and on the court. At UMBC, we value each other as whole people, and we come together to learn, solve problems, create new things, and just have fun.
10,900+
Undergraduate Students
2,500+
Graduate Students