Customer Success Use Case
East Coast R1 Public University
Alumni Access to Library Services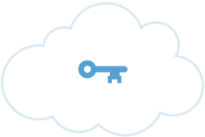 Single Sign-On
Description Goes Here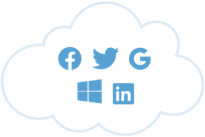 Social Login
Description Goes Here
Summary
This R1 university on the east coast offered alumni access to library services with social logins reducing account management support overhead.
Business Challenge
For large universities, the number of alumni accounts grows substantially each year. Alumni services are critical to campus success, but they add a significant overhead for service desk support (forgotten accounts/password resets) as well as higher maintenance for IT development due to the large number of accounts to manage and increased licensing costs for some enterprise applications.
This large R1 public university on the east coast offered dues paying alumni access to Library services and wanted to provide an intuitive user experience in accessing services while also reducing the IT and service desk overhead. Their initial use case was to reduce the overhead associated with accessing Library services through EZProxy by offering the use of social logins. This would allow them to retire the existing access request form and process for alumni who paid the fee and automate the process for the Library.
Project Goals

Simplify the IAM environment and retire legacy solutions

Partner with IAM professionals so the small IT team could focus on other priorities

Provide an intuitive login experience for alumni to use accounts they already have and know

Reduce technical, library and service desk administration by improving access automation

Ensure alumni maintain their access in a smooth transition to the new social login option
How Cirrus Helped
This was the second implementation with Cirrus Identity on this R1 campus. The Account Linking module and the SAML Proxy were already implemented to improve access for medical school users to campus services.
To implement social login for alumni to library services, Cirrus Identity partnered with the CISO, Identity Management and Library teams to implement the Gateway solution. The campus selected the social login providers and Cirrus worked to configure them and set up the Account Linking module to link the alumni's chosen social login account to their campus account.
When alumni access Library services through EZproxy, they are given a choice to use their existing campus login or select a social login. If they select a social login, they authenticate with that provider and if it's their first time logging in with a social account, they are directed to "link" their account to a campus identifier, either by logging in with their campus account or completing an online IDVerify process provided by Cirrus. The questions presented in the IDVerify process are configured by the campus through an API that verifies responses to the IDVerify form. All answers data remains on campus and only the unique campus identifier is passed to the Cirrus Proxy and onto the Library services. The alumni only have to link their social login once. When they come back a second time and authenticate with their social login, they are taken directly to the Library services.
This IDVerify automated process allowed this campus to retire their in-house developed solution. The Library and IAM teams tested the configuration and it was seamlessly rolled out to alumni.
Login Screen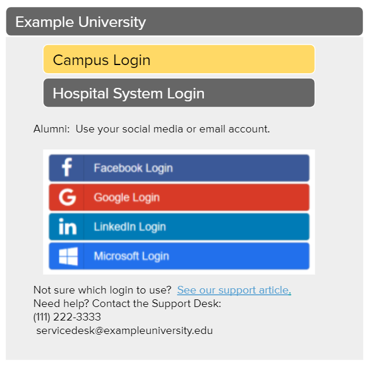 Impacts
"Cirrus is an invaluable component of our Identity and Access Management tool kit. Their products add the flexibility we need to address complex access management problems, at a reasonable cost. Their support team is top-notch; extremely knowledgeable, always professional, and available 24/7 to assist with any of our questions."

Intuitive User Experience - 1000's of alumni transitioned and retained existing access to library systems.

Reliability & Technical Risk - Hosted solutions have provided reliability and stability.

Faster Solutions for Technical Gaps - New library services are quickly added and social logins can be added for other services for alumni, contractors or guest lecturers, etc.

Infrastructure Savings - Legacy infrastructure for the IDVerify process has been retired which saved expenses.

Support Savings - Service requests were reduced.

Developer Savings - Avoided development and maintenance which saved expenses.
High Level Architecture